New Sewing Program Keeps 'Em in Stitches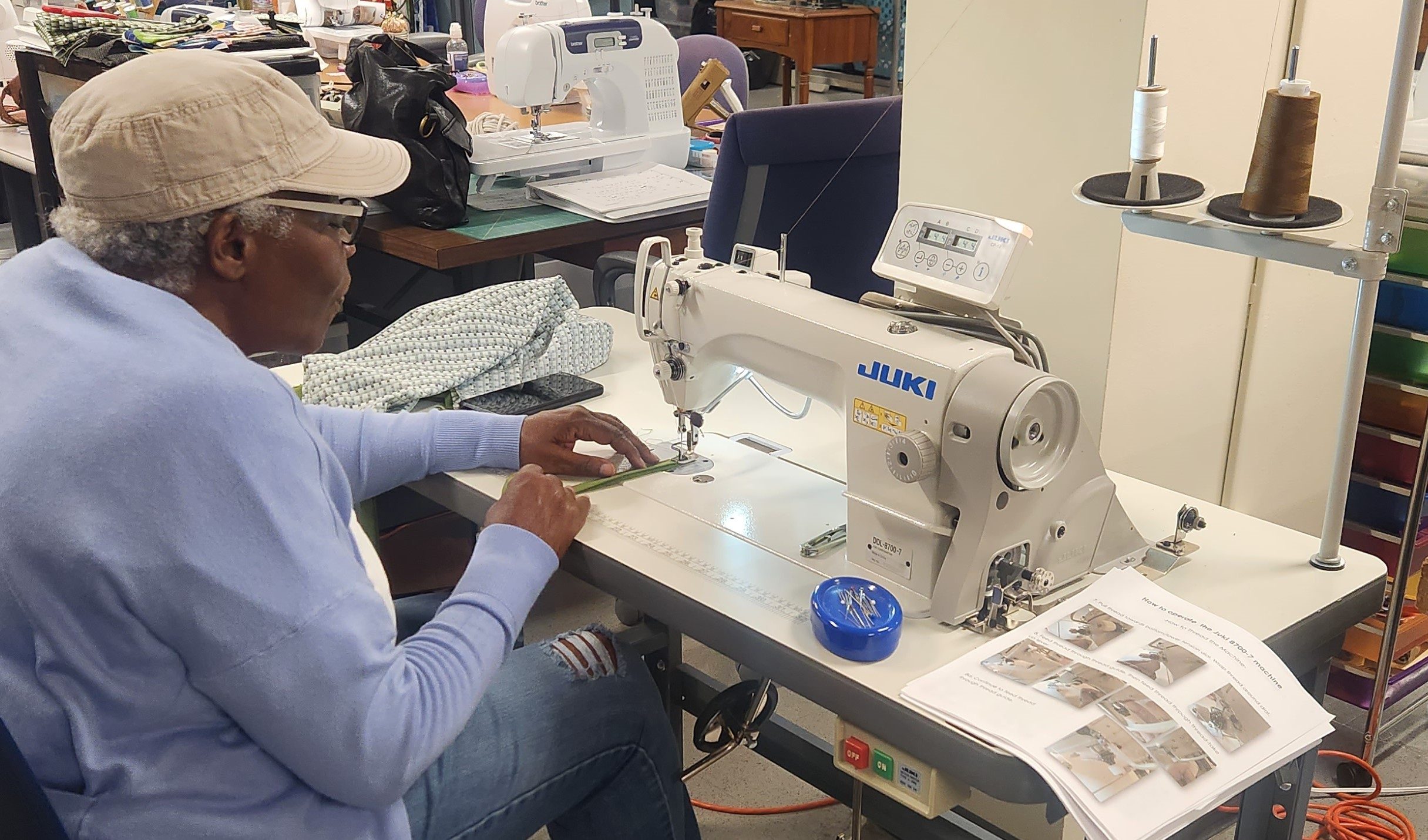 Conversation flows easily and laughter comes quickly in the Sarah Center. Perhaps the only thing that flows more rapidly than the comments is the whir of the new industrial sewing machine.
"It's a workhorse," sewing instructor Jennifer Butler says.
The Juki DDL-8700 is the centerpiece of #Stitched# 2.0, an advanced sewing program launched in September.
The goal of the new program is to build on the basic sewing skills taught in the original #Stitched# program. Students will learn advanced sewing techniques and gain experience on a variety of machines.
St. Francis Seraph Ministries recently received a donation of multiple vintage machines from Common Thread, a sewing group at St. Catharine of Siena Church in Westwood. The industrial machine was purchased thanks to a grant from the Charles H. Dater Foundation. The Sarah Center also has a serger machine for sewing seams and a bank of modern personal sewing machines, which students have used since the original #Stitched# was launched in 2020.
Each student in the 2.0 pilot program made four items: a sewing machine cover and a laundry bag that they were able to keep, plus a seat cushion and walker caddie that will be donated to elderly neighbors in Over-the-Rhine. "It's a way for them to give back to the community," Sarah Center Director Adina Wofford says.
Community has always been at the heart of Sarah Center programs. From Day One, the center has aimed to empower its members through creativity and camaraderie. Students often return after graduation to hone the skills and nurture the friendships they forged during sewing or jewelry-making classes.
The original #Stitched# program started during the COVID-19 pandemic, when local textile companies urgently needed more employees. The goal was to quickly teach basic sewing skills so students could obtain entry-level positions. As the job market has evolved, most textile companies now require experience on an industrial machine. At the same time, we have seen more Sarah Center members interested in creating crafts to sell for extra income. #Stitched# 2.0 was created to fill the needs for hands-on experience and more advanced skills.
"Everyone who graduates from #Stitched# 2.0 will really know what they are doing," Wofford says. "They are getting a great experience."